There's nothing better than finding a good tourist trap – you know those campy little side of the road places that are found in every state. On island, the go-to spot in clearly The Tourist Trap (aptly named of course) over near Salt Pond. But did you know that there's a cool tourist trap in all 50 states?
The writers over at Huffington Post did some research and compiled this list of the best stateside tourist traps. Let us know if there's one in your area that didn't make the cut.
This is the ONE Tourist Trap You're Missing Out On in Each U.S. State by Huffington Post
With road trip season upon us, we've pinpointed some places that might get bad raps as "tourist traps" but actually deserve a visit, because they're actually awesome.
Together, these offbeat, off-road places are one big celebration of America in all its kitschy, historic, lip-smacking roadside glory– and they're definitely worth a veer off the Interstate.
ALABAMA
The Boll Weevil Monument
Because where else on this Earth are you going to find a Grecian-style tribute to an agrarian pest? The residents of Enterprise, Alabama erected this statue in 1919 as a way to thank the boll weevil for ruining their cotton crops and forcing them to grow other things, like peanuts and soy beans, as well. Aww.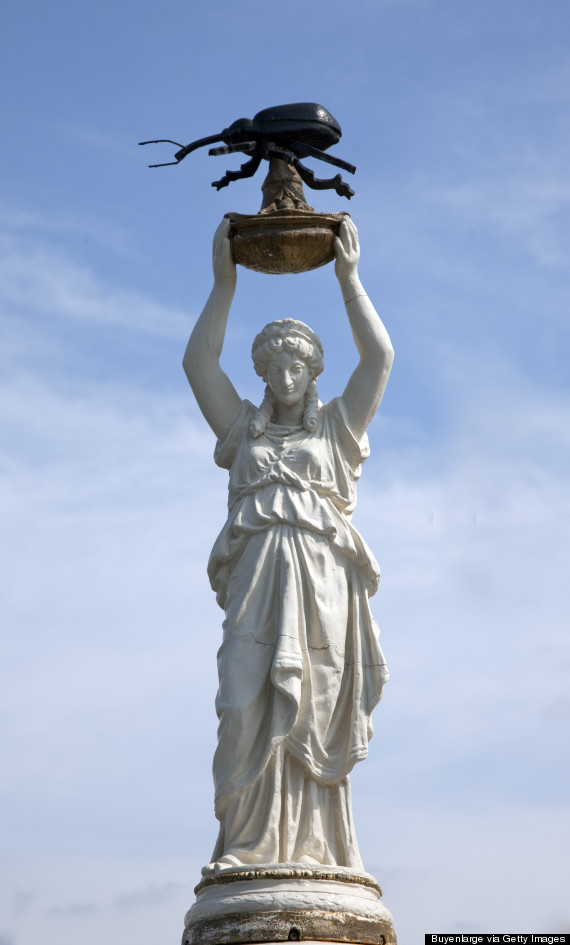 ALASKA 
Iditarod Trail Headquarters
At the headquarters of the annual sled dog race, you can meet members of the family who founded the Iditarod and hop in a wheeled sled before real sled dogs run you around the grounds (during summer, at least). There might even be PUPPIES!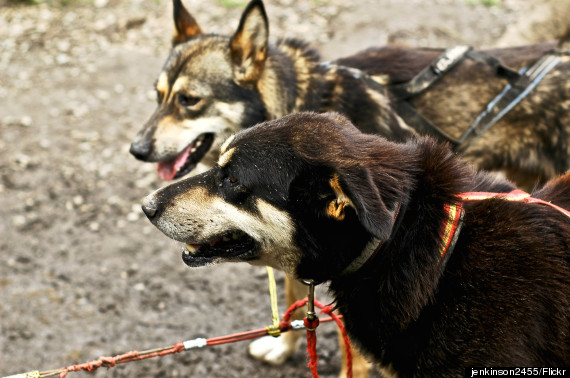 ARIZONA
Meteor Crater
Yup, there's a hole in the ground besides the Grand Canyon. The Meteor Crater (also known as Barringer Crater) was produced when a 300,000-ton hunk of rock slammed into Earth. It's over 500 feet deep and almost a mile across, and you canteeter right on the edge.
Recommended by Yasmine Hafiz, associate editor of Huffington Post Religion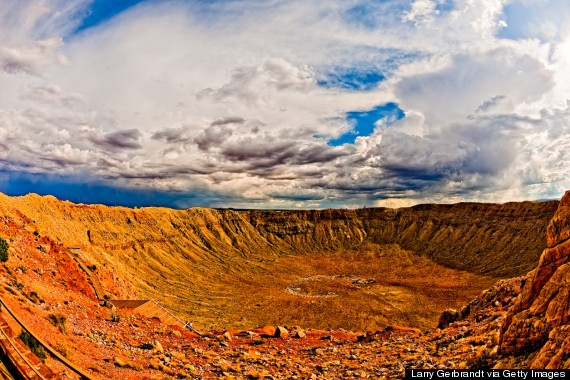 ARKANSAS
Crater of Diamonds State Park
Treasure hunters from far and wide journey to this 37.5-acre plot of dirt, the only diamond-producing site in the world that's open to the public. "It's the most fun you'll have" for eight dollars (especially when you happen upon a diamond worth $20,000).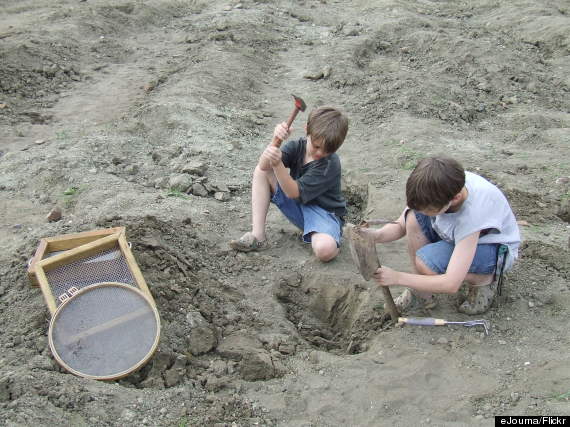 CALIFORNIA
The Mystery Spot
Laws of physics and gravity just don't seem to work at this funky little house in the redwoods. Balls roll uphill, people seem to grow and shrink, you can lean bizarrely far forward without ever toppling over… and we're still scratching our heads.
Recommended by Yasmine Hafiz, associate editor of Huffington Post Religion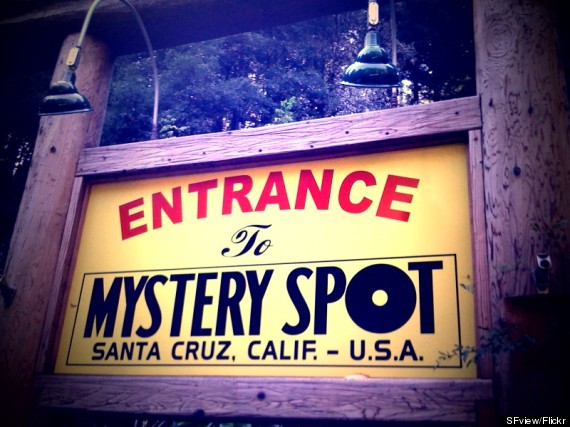 COLORADO
Mike the Headless Chicken Festival
If you're driving I-70 through Colorado in the month of May, then you're in luck. That's when the residents of Fruita hold a two-day festival (complete with a 5k run, frisbee golf tournament and wing-eating contests) to celebrate Mike, the chicken who lived on for a miraculous 18 months after he was decapitated in 1945. CONNECTICUT
The PEZ Candy Factory
At the Wonka-esque visitor center, you can watch PEZ be packaged for sale, take a photo with the world's biggest PEZ dispenser, and browse shelves on shelves of everyone's favorite flavored tablets.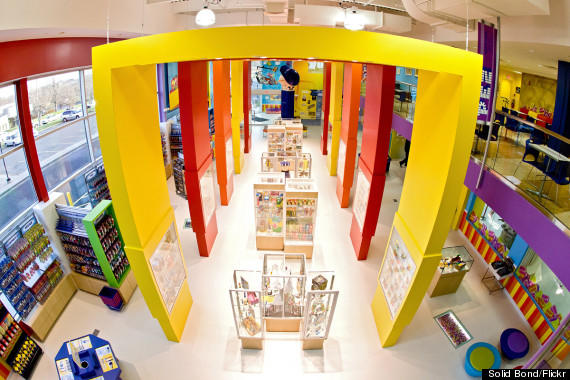 DELAWARE
Dover International Speedway
Get a big mouthful of 'Murrica at the "Monster Mile," where you can barbecue orovernight camp before hootin' and hollerin' at NASCAR races in the recently revamped stadium around an epic mile-long track.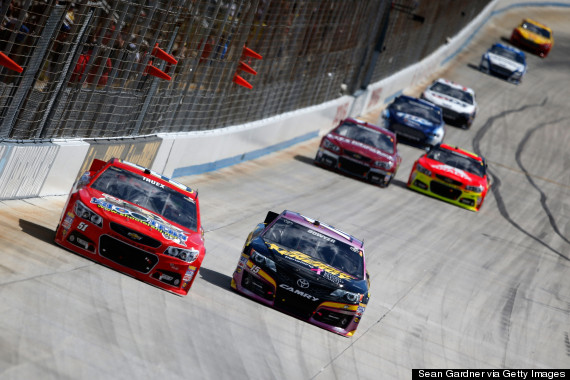 DISTRICT OF COLUMBIA
Ben's Chili Bowl
If Bill Cosby, President Obama, and Russell Crowe all visit a "tourist trap," then we aren't ashamed to visit either. D.C.'s monuments will probably leave you hankering for a signature half-smoke, anyway. FLORIDA 
St. Augustine Alligator Farm
The Alligator Farm started as a humble seaside reptile exhibition in the late 1800s.The new and improved location has crazy add-ons including Crocodile Crossing, where you can zipline "like a spider monkey" above live gators and past red-ruffed lemurs!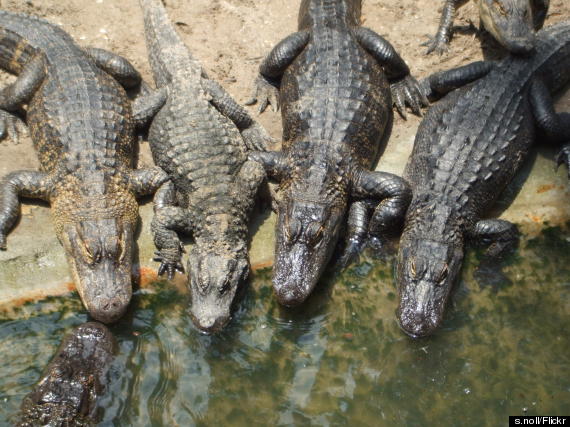 GEORGIA
Ellis Brothers Pecans
You'll see the billboards for this all over I-75, but DO NOT ignore them. The white wooden storefront is a wonderland of free samples, from fresh-made brittles to chocolate-coated nuts to honey-cinnamon candied pecans. Bring some home for baking.
Recommended by Chris Gentilviso, senior editor of Huffington Post Politics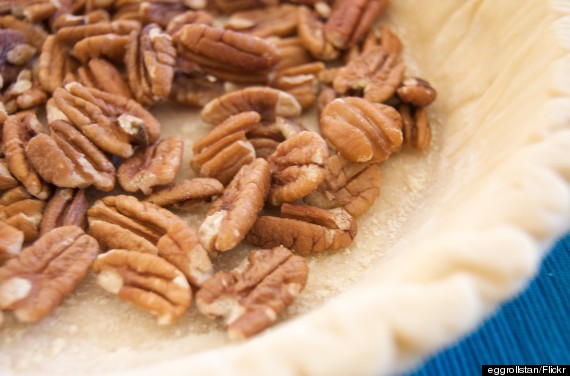 HAWAII
Hā: Breath of Life at the Polynesian Cultural Center
Imagine a Broadway show set on the beach, and you've nailed this nighttime fire-dancing, drum-beating, volcano-spewing saga that blows luaus out of the water.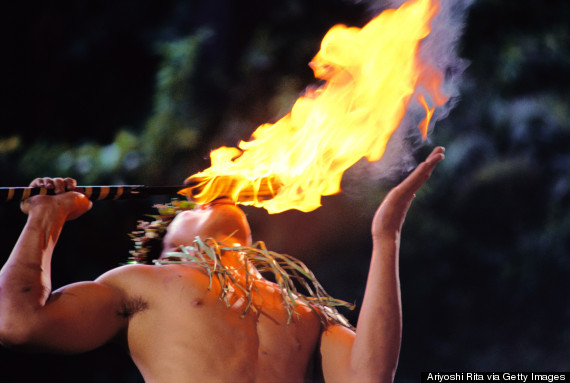 IDAHO
The Spud Drive-In
The movie screen, the mountains, or the giant potato on a flatbed trailer? Too much awesomeness is competing for your attention at this vintage drive-in that's "frozen in time." Watch double features from the back of your pickup or in a sleeping bag on the field under a starry Idaho sky.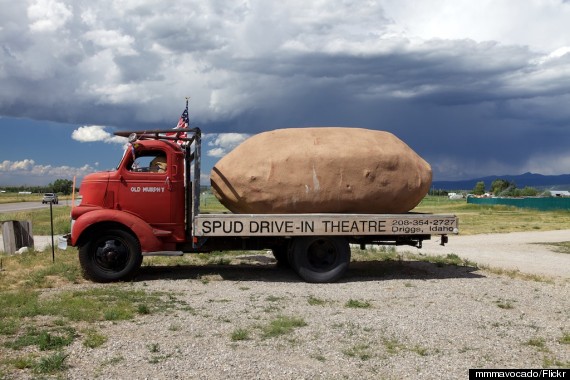 ILLINOIS
The Leaning Tower of Niles
It's half the size of the real thing, which means it's half as fun as going to Pisa. The tower was originally part of a recreation park for employees of a ventilation company– rumor says it was designed to hide the swimming pool's ugly water filtration tanks.
Recommended by Chris Gentilviso, senior editor of Huffington Post Politics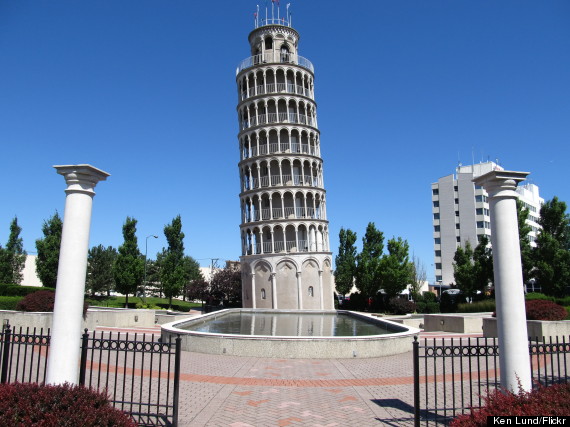 INDIANA
Fair Oaks Farms
More than 80 adorable baby calves are born on this dairy farm every day, meaning YOU get to witness the milky miracle of life. Then, observe as a rotating turntable milks 72 cows at once. Whoa. IOWA
The Field of Dreams
Tour the family farm where the 1989 movie was filmed– it's hosted a movie screening,concert and Hall-of-Famer exhibition game in the past.
Recommended by Herbie Ziskend, chief of staff at the Huffington Post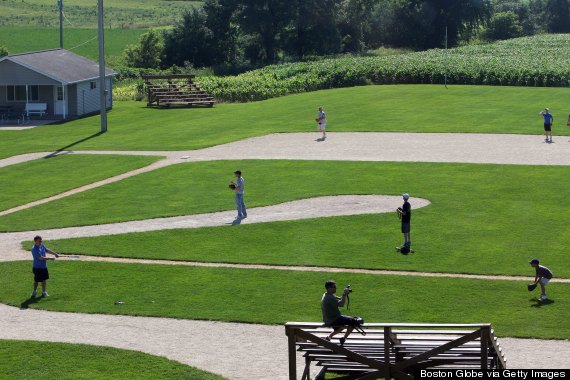 KANSAS
Dorothy's House
There's no place like home, remember? Let a real-life "Dorothy" guide you around her residence, from the ice cream separator in the kitchen to the chamber pot she had to empty in the yard. There's even a tornado outside her bedroom window and a yellow brick road leading to Oz (cue creepily-painted mannequins).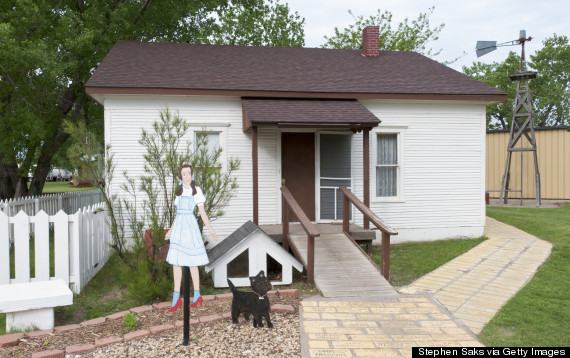 KENTUCKY
The Bourbon Trail
Ditch the driving and do some drinking during a day on Kentucky's Bourbon Trail, aflawlessly-plotted route that takes you past eight authentic distilleries including Jim Beam and Maker's Mark.
Recommended by Kate Auletta, senior editor of Huffington Post Travel LOUISIANA
Café Du Monde
Yes, the beignets are THAT good. And a stroll through the French Quarter is a must, as long as you keep it authentic.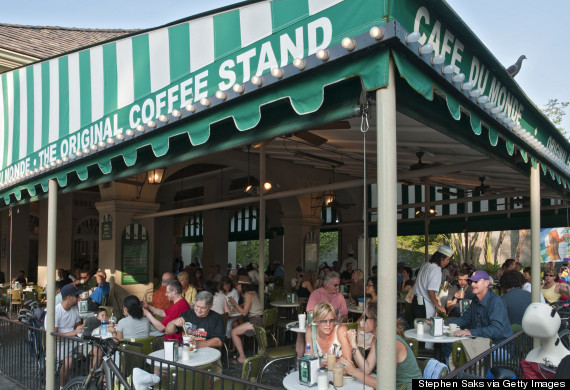 MAINE
The Desert of Maine
Ok, so it's not an actual desert. It's an exposed plot of glacial silt in the middle of a forest. The Tuttle family tried to grow potatoes here, but it wasn't long before they mistakenly eroded their entire farm. On your visit, you can inspect their barn or simply pet the giant inanimate camels. Ahh, America.
Recommended by Chris Gentilviso, senior editor of Huffington Post Politics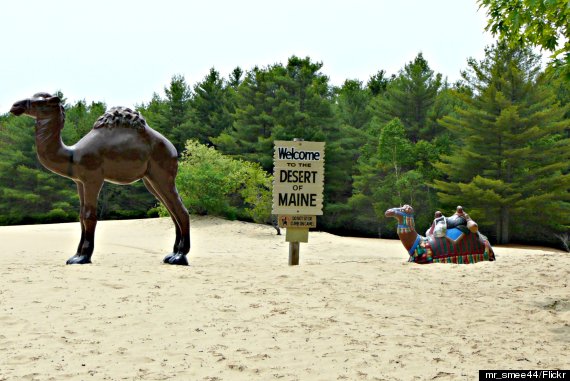 MARYLAND
The National Museum of Dentistry
Wanna see George Washington's lower denture? How about Queen Victoria's "oral hygiene instruments?" The early African chew stick will blow your mind… and make you thankful for Oral-B soft bristles.
Recommended by Chris Gentilviso, senior editor of Huffington Post Politics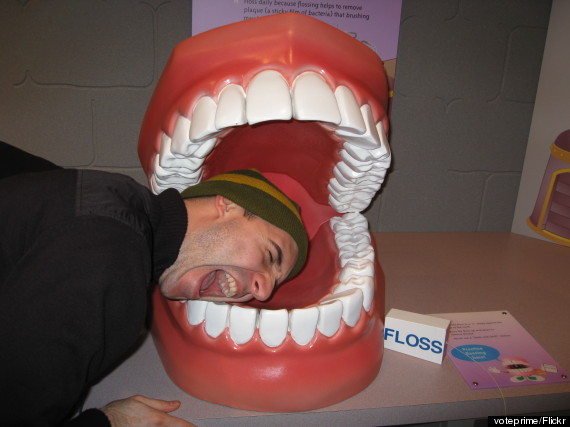 MASSACHUSETTS
Flying Horses Carousel
The oldest platform carousel in the country was uprooted from Coney Island over 100 years ago and planted in a red barn on Martha's Vineyard. You've still got a shot at grabbing that slippery brass ring as you whirl round and round. MICHIGAN
The Ford Rouge Factory
Truck buffs will positively flip over the chance to watch an F1-50 being assembled. All this industry is juxtaposed with one of the world's largest "living roofs," making for a cool contrast.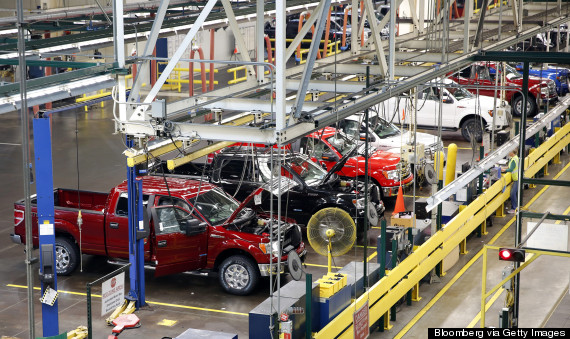 MINNESOTA
The Jolly Green Giant
Yup, it's an overgrown version of the dude on your frozen peas. And if you pass through the city of Blue Earth in mid July, you'll get an extra dose of kitsch: it's when local residents celebrate Giant Days with a fun run, parade, face painting and fireworks show above their jolly green friend.
Recommended by Chris Gentilviso, senior editor of Huffington Post Politics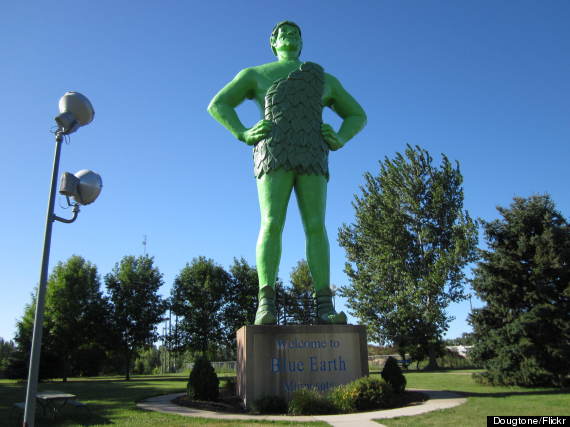 MISSISSIPPI
Vicksburg National Military Park
A place that includes a cemetery probably doesn't deserve to be called a "tourist trap," but it must be known that this park draws its crowds for good reason. On a warm day, hop on a bike and meander the 16-mile route that will show you — via real cannons,reconstructed trenches, and the remains of a thrashed gunboat — more Civil War history than you've memorized in a lifetime.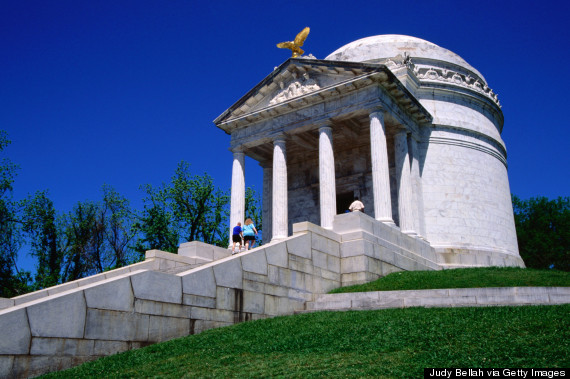 MISSOURI
Ted Drewes Frozen Custard
Nothing says touristy road trip — or America in general — more than a cold cup of frozen custard off Route 66. If it's Christmastime, you can also strap one of Ted's signature evergreens to your roof.
Recommended by Chris Gentilviso, senior editor of Huffington Post Politics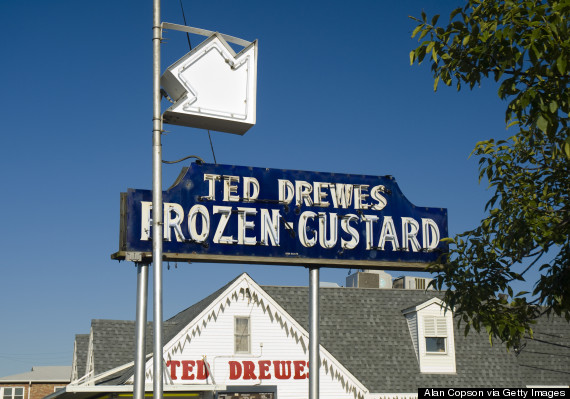 MONTANA
Chico Hot Springs
They're rustic and just off the highway as if they're a tourist trap, but frequented by celebs as if they're… not a tourist trap. Two big, outdoor pools offer just as pristine a view in sun as they do in snow, and the saloon is a hotspot all year round. You can always rent a luxe cabin for the night to glitz-ify your experience.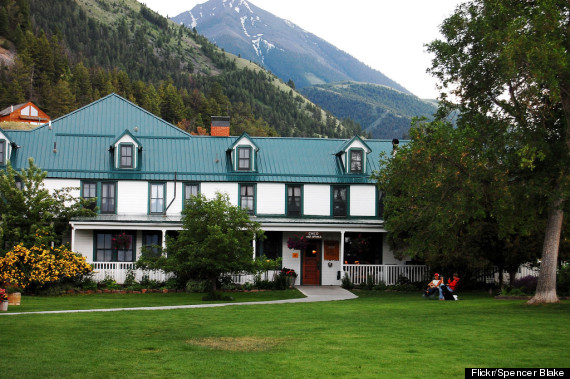 NEBRASKA
Kool-Aid: Discover the Dream exhibit at the Hastings Museum
Good ol' Edwin Perkins first exported Kool-Aid from right here in Hastings for 10 cents a packet. This exhibit shows some vintage Kool-Aid bottles and limited edition Kool-Aid Barbie dolls. Or you could plan a trip during Hastings Kool-Aid Days, when you'll meet the big red man in person. Oh yeeeah.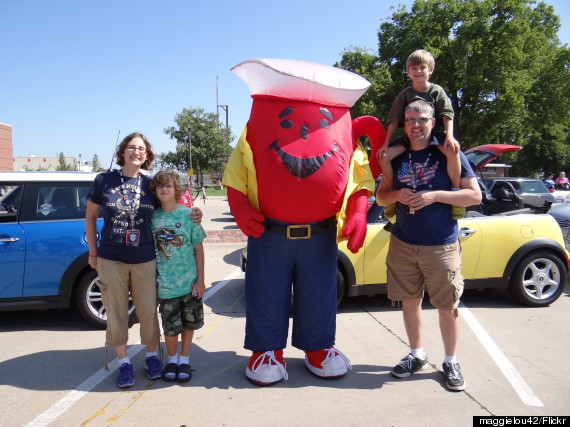 NEVADA
The High Roller
It literally just opened, beating the London Eye and Singapore Flyer in height to become the world's tallest observation wheel. Forty people can fit in one glass-covered pod to watch Sin City spin below. NEW HAMPSHIRE
The American Classic Arcade Museum
A rotating cornucopia of about 200 vintage arcade machines — from Tetris to Space Invaders to Galaxian — beckon for your coins, and not one of them was built after 1987. You could spend hours… well scratch that, DAYS, here.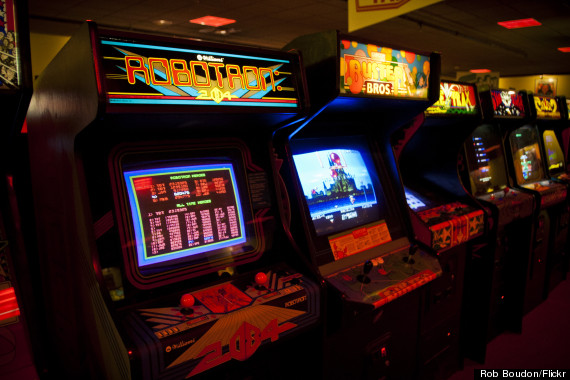 NEW JERSEY
Battleship New Jersey
At nearly three football fields in length, the USS New Jersey is America's most decorated battleship for her service in multiple conflicts. Nowadays, she floats on the Camden Waterfront, where you can board her for an overnight stay in real sailor bunks and dine in her mess hall. Ahoy!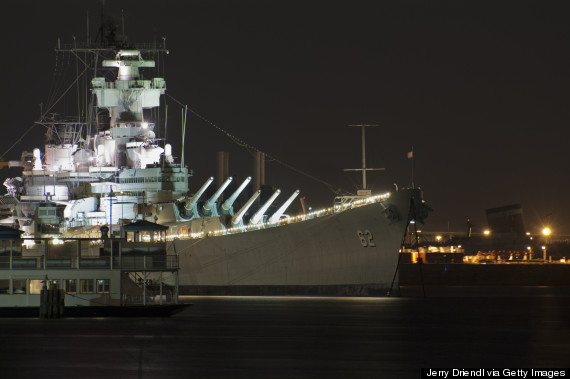 NEW MEXICO
The Albuquerque International Balloon Fiesta
It's not abnormal for over 100,000 people to turn up at the world's biggest hot air balloon festival, when hundreds of hot air balloons hit the big blue sky at once. As they light up for a Balloon Glow night ascent, you feel all magical and ticklish inside.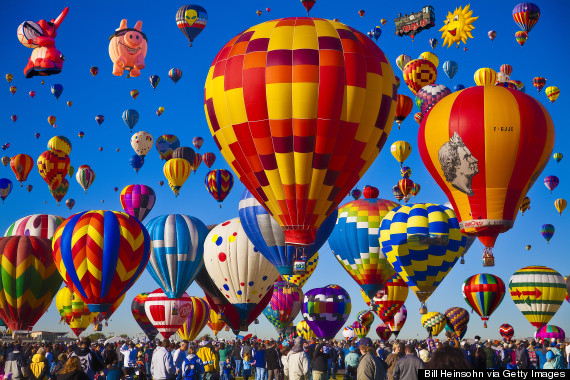 NEW YORK
Top of the Rock Observation Deck
They say this open-air observation deck is better than the one at the Empire State Building because you can see Central Park without any other tall buildings in the way. Standing 70 stories high at sunset — when you can see how utterly tiny this island really is — is one of those awe-inspiring, life-defining, coming-of-age moments when you feel like you're on top of the city and, therefore, the world.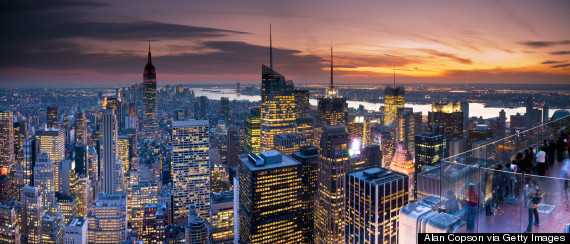 NORTH CAROLINA
The North Carolina Zoo
The nation's largest walk-through natural habitat zoo never gets old, especially now that there are larger-than-life animatronic bugs, three adorable baby cougars, and an otter pup. NORTH DAKOTA
The Center of North America
Ok, so the actual center of North America is located 16 miles from this stone obelisk in the small town of Rugby. But let's give Rugby's adorable residents the benefit of the doubt and grab an ice cream cone while we're at it.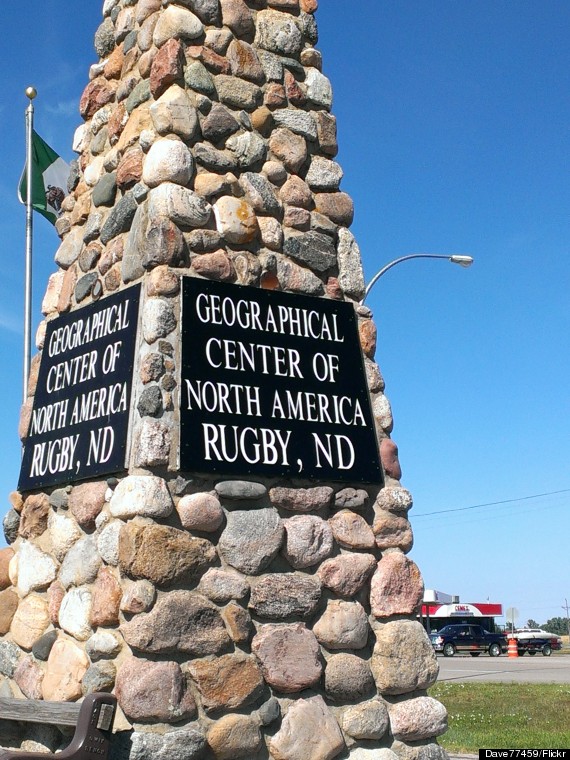 OHIO
Pro Football Hall of Fame
At every football fan's personal Mecca, you can browse the busts of inductees andrelive Super Bowl highlights in a top-of-the-line theater. Be sure to exchange numbers with the other football geeks playing Madden with you.
Recommended by Herbie Ziskend, chief of staff at the Huffington Post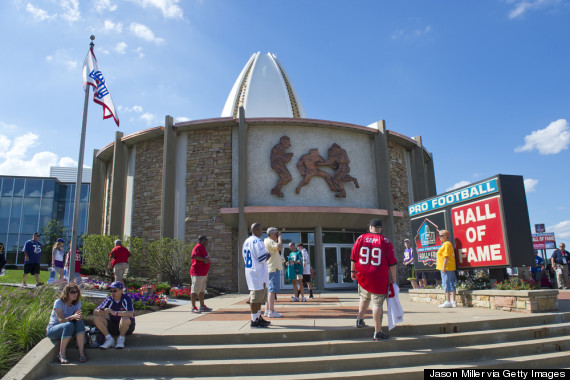 OKLAHOMA
The World Champion Cow Chip Throwing Contest
Let's just ignore the giant beaver statue for a second and focus on the fact that this town hosts an annual competition in which people throw cow chips — aka dried pieces of bovine dung — across a field. They also have a parade with a Cow Chip Queen.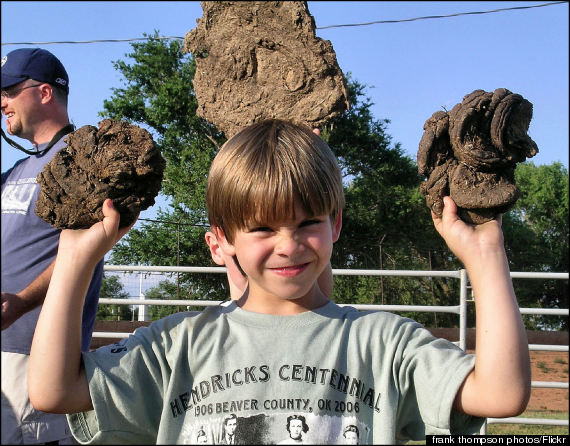 OREGON
Evergreen Aviation and Space Museum
Start off literally inside the Spruce Goose, Howard Hughes's creaky wooden fail of a World War II flying contraption. "People come in and ask, 'Where is it?,'" a museum official told Roadside America. "We'll tell them, 'Look up.' And they'll say, 'Holy cow!'"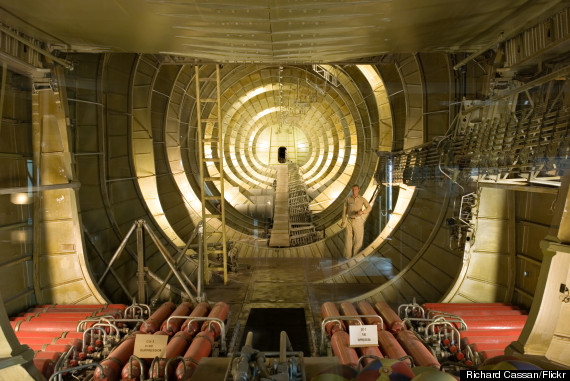 PENNSYLVANIA
Hershey's Chocolate World
Sit in a chocolate-toned Hershey's mobile as you're whisked on the cocoa's journey from humble bean to Hershey's treat. Design your own chocolate bar, watch a 4D candy show, try milk, dark, and flavored samples… need we go on?
Recommended by Cayla Rasi, HuffPost social media editor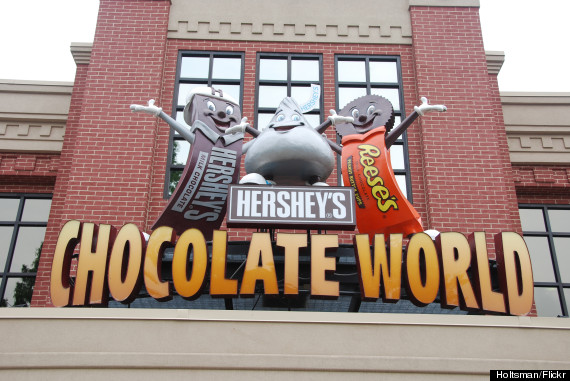 RHODE ISLAND
The Newport Cliff Walk
If gawking at other people's mansions qualifies as a tourist trap, then count us in.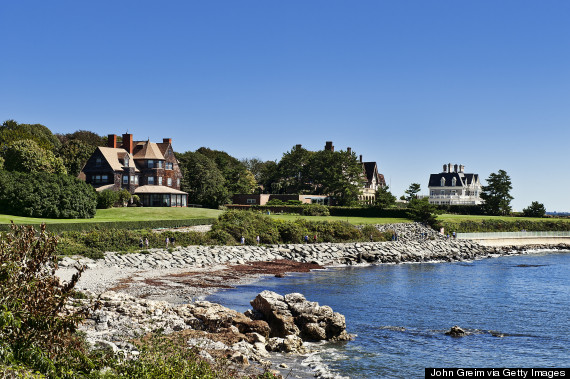 SOUTH CAROLINA
South of the Border
Part rest stop, part motel, part Tex-Mex-themed amusement park… whatever this compound on the highway is, it's awesome. Check out the largest indoor reptile exhibit in the U.S.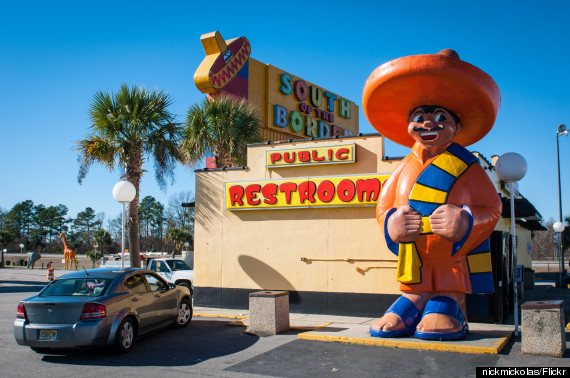 SOUTH DAKOTA
Crazy Horse Memorial 
Mount Rushmore's unfinished cousin is going to be a massive rock sculpture of Native American leader Crazy Horse. Hurry, it's been over 60 years in the making, and construction could wrap up any second! (We're joking.) At least the 90-foot face is done.
Recommended by Chris Gentilviso, senior editor of Huffington Post Politics TENNESSEE
Dollywood
Water slides. Funnel cakes. Dolly Parton concerts, and the general essence of Dollyness everywhere you look. There's a reason this is the biggest ticketed attractionin the state.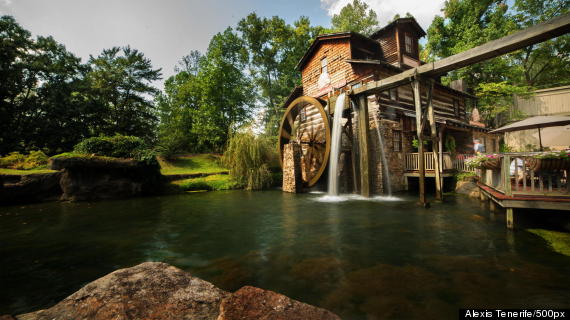 TEXAS 
Schlitterbahn
The New Braunfels installment of this water park chain has an inner-tube conveyor belt, secluded hot springs, and six-story uphill water coaster. No wonder it was votedAmerica's Number One Water Park. Go inland shredding at the South Padre Island park, too (they have their own surf team). UTAH
Delicate Arch
This is the arch you've see on state license plates and the same one the Olympic torchpassed through in 2002. The hike to this sandstone beauty is so majestic, you won't even be ashamed to take the obligatory jumping pic.
Recommended by Lauren Zupkus, fellow with Huffington Post Entertainment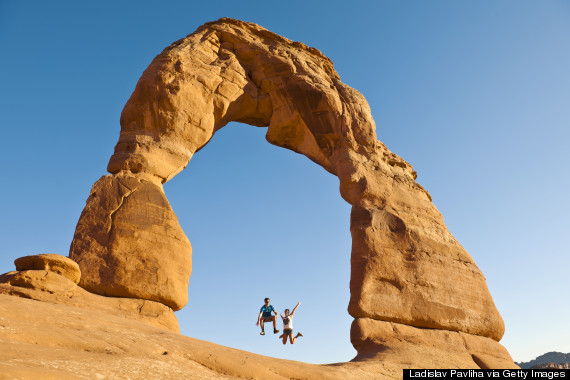 VERMONT
The Ben & Jerry's Factory
Happiness is any building where you can watch fabulous ice cream flavors be bornAND sample them for free AND order special ice cream and topping mash-ups. Take a somber moment to mourn discontinued combinations in the Flavor Graveyard.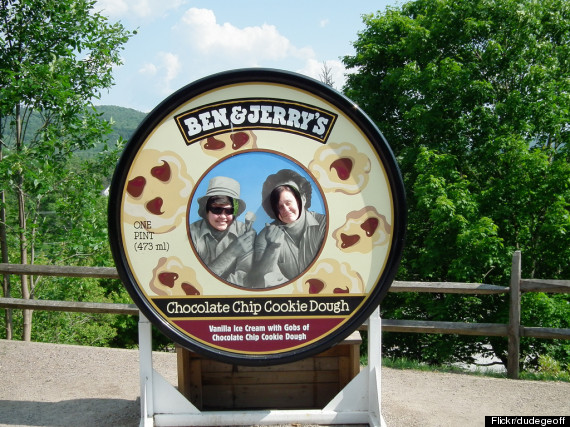 VIRGINIA
Foamhenge
It's Stonehenge. But with STYROFOAM. And without the weird conspiracy theories. Waaay more giggle-inducing than it looks.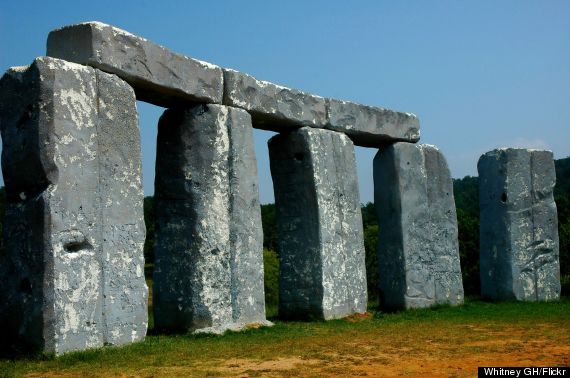 WASHINGTON
Pike Place Market
Get your latte at the world's first Starbucks, but be prepared to drop it if the fish throwers fail to catch your salmon during their gravity-defying seafood spectacle.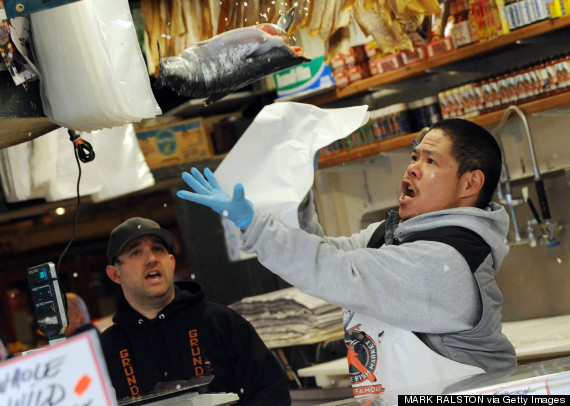 WEST VIRGINIA
Harpers Ferry
You'll feel like you're back in Civil War times when you bake pie in a beehive oven ormake your own tinware at this national historical park. The surrounding town is pretty darn cute, too.
Recommended by Chris Gentilviso, senior editor of Huffington Post Politics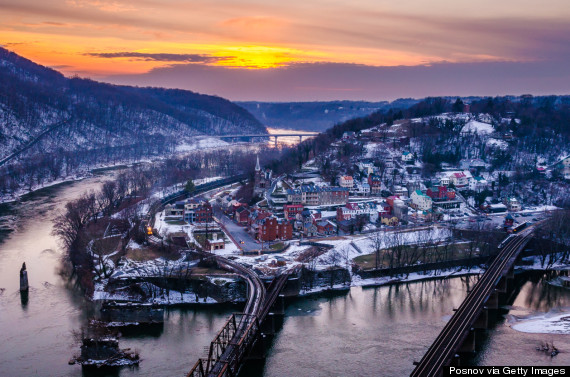 WISCONSIN 
Mars Cheese Castle
Cheese. Castle. Need we say more? (No, it's not built from cheese. Yes, there is copious cheddar inside.)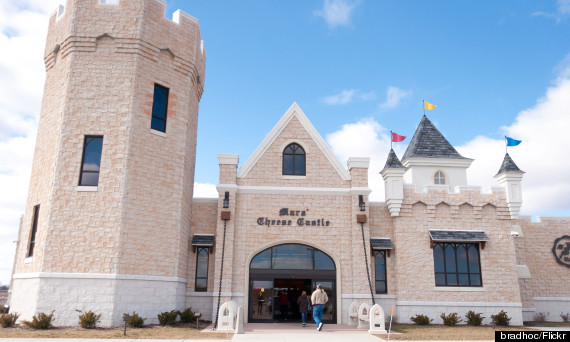 WYOMING
The Cody Night Rodeo
It's a real taste of Americana at this two-hour rodeo blowout, held nightly from June through August. You'll see bull riding, team roping and barrel racing, and any kid in the bunch can sign up to tackle a calf.