Now this is a very cool story…
Sir Richard Branson, one of our coolest neighbors over in the British Virgin Islands (and I say that because he is the ultimate conservationist and philanthropist), is sinking a WWII warship so it can become an artificial reef. The warship is one of five surviving ships from the Pearl Harbor attack.
Bloomberg did a really nice writeup on the project dubbed the B.V.I. Art Reef just a few days ago. Check it out:
Richard Branson's Latest Travel Project Is Underwater – Unlike Virgin Galactic, this one's meant for the masses.
by Nikki Ekstein
Richard Branson has launched many a business venture. Rarely has he intentionally sunk one.
But that's exactly what he'll do on April 10 (weather permitting), when he cuts the ribbon for his latest endeavor, a historic naval ship turned scuba site just south of Mountain Point in Virgin Gorda, part of the British Virgin Islands. When it sinks into the Atlantic Ocean, the Kodiak Queen—one of five surviving ships from the attack on Pearl Harbor—will officially become B.V.I Art Reef, a man-made marine ecosystem and otherworldly dive site crowned by an 80-foot-long Kraken sculpture.
It may be located near the billionaire's exclusive Necker Island estate, but Branson's new project is as democratic as they come.
For one thing, unlike Virgin Galactic which will be shooting tourists into space for $250,000 a pop, visiting the B.V.I. Art Reef is free if you take yourself, and is not meant to be a massive moneymaker at all. Proceeds will come in through diving operators—a majority of whom charge a modest $100 for single-tank dives at other sites in the B.V.I. What's raised from local outfitters will be funneled out to support various regional causes, from marine preservation to social justice initiatives. Boosting youth swimming-education programs at Branson's multifaceted, not-for-profit foundation, Unite B.V.I., is one big-picture goal.
"The B.V.I is a collection of small islands surrounded by beautiful coral reefs full of life, yet many people from the B.V.I have never had the opportunity to witness this thriving underwater world because they have never had the opportunity to learn how to swim," Branson told Bloomberg in an interview, citing a statistic that one in 10 children is unable to get across a pool. "One of the reasons why I have been supportive about this project is that I believe it will inspire people to want to learn how to swim, snorkel, and ultimately scuba dive—and my greatest hope is that, as that happens, they will fall in love with the world that lives beneath the surface and will become passionate to protect and preserve it."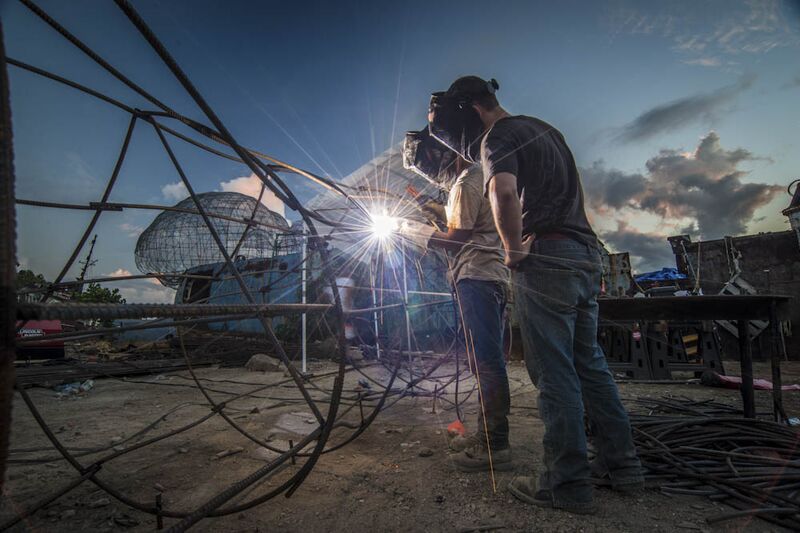 "In the B.V.I, we have a lot of derelict ships that are aground on the main island of Tortola," explained Branson. "They detract from the natural beauty of the place."
One of Branson's team members, a marine mechanic and photographer named Owen Buggy, saw an opportunity: "[Buggy] pitched the idea to me of cleaning this ship of any environmental hazards and then intentionally sinking it to become an artificial reef and recreational dive site," recalled Branson. It didn't take much convincing for the serial entrepreneur to get on board.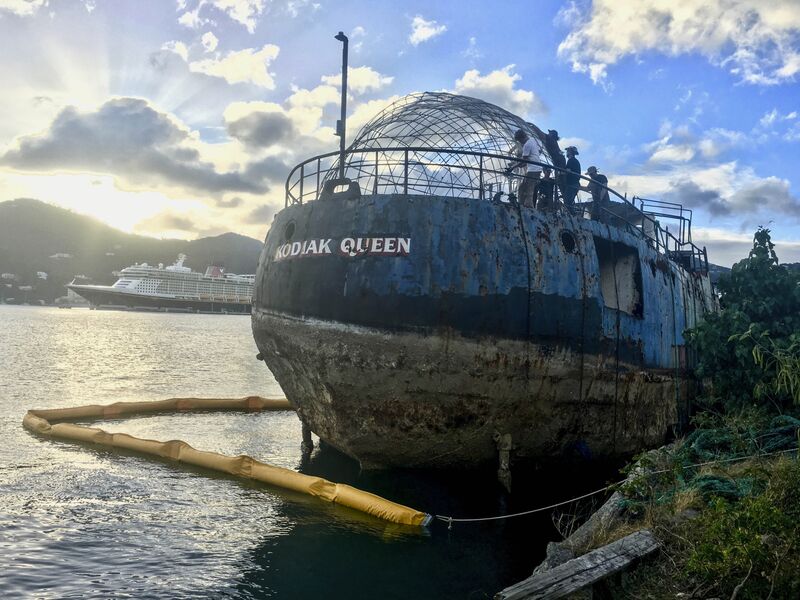 Restoring the Kodiak Queen has been a nine-month endeavor. Though the investment sum was undisclosed, the project is likely to have cost more than $4 million, which is what it cost to create and sink another artificial reef in Palm Beach, Fla., earlier this year. The project was made possible by funding from Maverick1000, a global network of industry disruptors; engineering help from B.V.I-based Commercial Dive Services; and the artistic vision of six creative masterminds from Secret Samurai Productions, Art Reef B.V.I.
"We've been fortunate that, through collaboration, we've been able to accomplish what would have been very challenging—well, impossible—to do on our own," said Branson.
At a private party on April 12, after it's had a couple of days to settle on the ocean floor, Branson and his team will take an inaugural dive around the site and then honor the 15 founding members (and other helping hands) at a party back at Necker Island.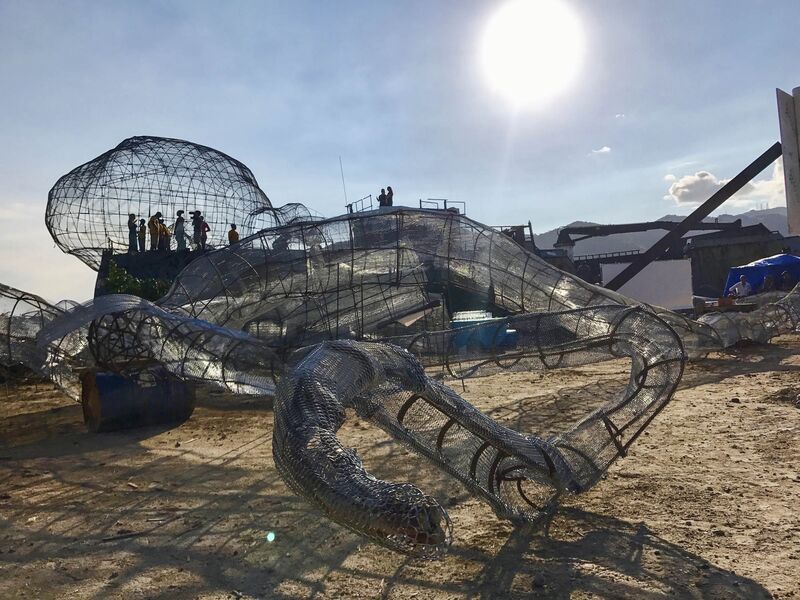 A robust coral grafting program will follow. In time, Branson expects the coral to propagate naturally and create a thriving ecosystem—one that he hopes will bring back the endangered goliath grouper. (Having the massive fish in these waters doesn't just make for good diving; grouper are also natural predators of invasive lionfish.)
Simultaneously, marine researchers will come in and start studying the effects of artificial reefs on rehabilitating over-trafficked dive sites. And the Art Reef team will also work with local operators to create "dive adventures" (think: scavenger hunts) throughout the site, encouraging travelers to support small businesses, rather than tackling the site on their own. A portion of those proceeds will then cover site maintenance, making the project fully self-sustained. It's almost as if one of the world's smartest businessmen came up with the proposal.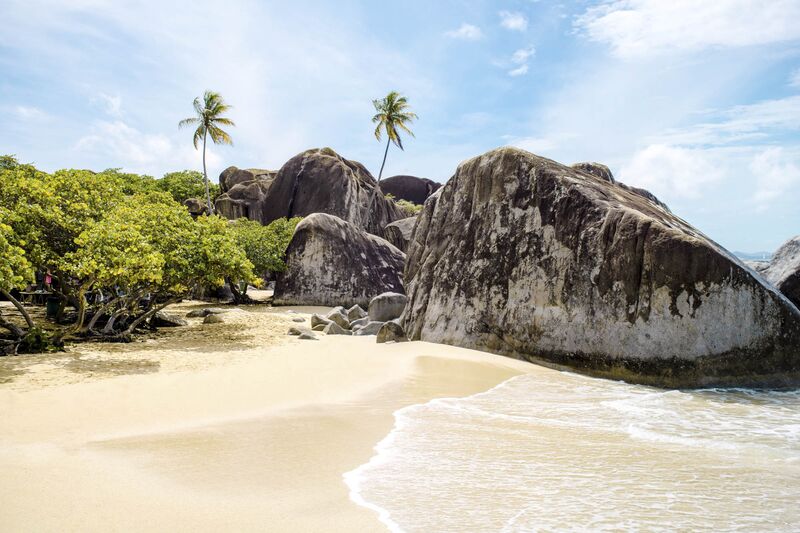 Luckily for travelers, it's never been easier to get to the B.V.I: The first direct flights from the U.S. to Tortola will launch this summer on B.V.I Airways, with departures from Miami. As a bonus, Laurance Rockefeller's 50-year-old resort on Virgin Gorda, Little Dix Bay, is soon to emerge from a multimillion-dollar facelift courtesy of Rosewood. It's closer to the Art Reef than Branson's flamingo-filled Necker Island, which sits on a private spit of land on the northern end of the archipelago. Then again, yachting over from Necker doesn't sound quite so bad, either.